Hotel Info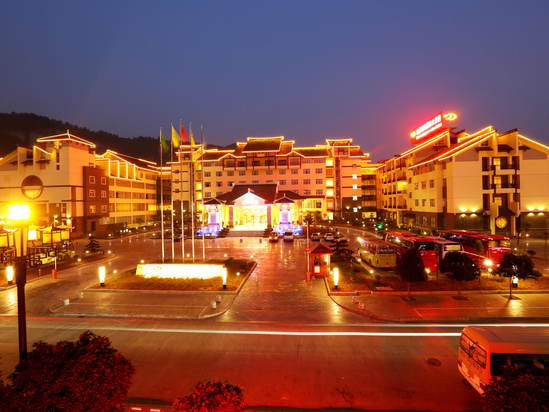 Zhangjiajie Santo Domingo International Hotel
is located opposite the Guihua Road bus station in Wulingyuan, the core scenic spot of Zhangjiajie World Natural Heritage. The hotel is only a 10-minute walk from the Wulingyuan World Natural Heritage-Wulingyuan Sign Gate Ticket Station in Zhangjiajie, and only 5 to 10 minutes by car from Huanglong Cave and Baofeng Lake.
The hotel integrates business, catering, leisure, tourism, tourism, and tourism into one, with a total construction area of more than 30,000 square meters, and has various specifications of guest rooms and presidential suites. The design of the room is very distinctive, incorporating the exotic charm of Southeast Asia in the local ethnic art. The room is equipped with advanced configurations such as a multi-function LCD TV and a complete high-speed broadband network.
The hotel also has 4 multi-functional conference halls and banquet halls, which can receive more than 200 people for large-scale meetings, banquets and cocktail parties at the same time, providing ample venues for hosting conferences, banquets and social events of various sizes. The hotel also has 25 bus parking spaces above ground and 48 underground parking spaces.